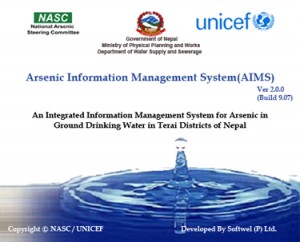 The Arsenic Management Information System (AMIS) has been developed for the UNICEF for managing more than 2 million tube-well data. The system has been developed by SOFTWEL for the prime consultant "GENESIS Consultancy (P) Ltd" under a sub-contract agreement.The system comprised of:
MS Access database and Visual Basic 6.0 programming
Facilities for automated query, graphs and chart creation and report generation for the arsenic data by various types of regions
Arsenic mitigation database system
Map Interface using open source GIS (Map windows) with raster map background of all 20 districts of Nepal.
Training to the UNICEF and Government Staffs
Operating Manual and System Documentation.